Silent Corporate Event Hire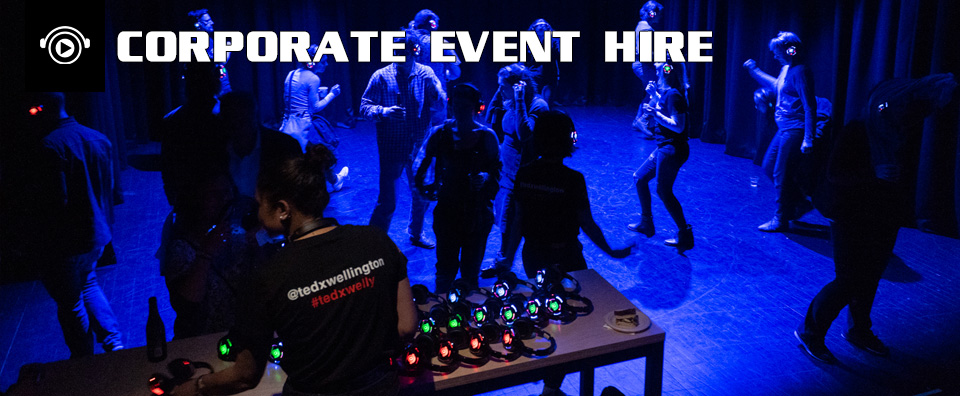 Wireless headphone technology is ideal for many types of corporate event, so stand out from the competition and connect with your audience in a way that will not soon be forgotten. SilentDisco.NZ will work directly with your own marketing team, event planner or preferred suppliers to create an immersive experience that will leave a trend setting and lasting impression.
When it comes to the type of entertainment you can have on the headphone system, the sky's the limit! Basically, anything that can be amplified can be fed through the headphone channels, including sound from conference microphones, DJ's, video screens, and even full bands. Working with our audio visual partners throughout New Zealand, the SilentDisco.NZ team can take care of the entire production process.
Our Silent Event Solutions
– Silent Pop-Ups
– Silent Conferences
– Silent Conventions
– Silent Trade Booths
– Silent Launch Events
– Silent AV Installations
– Silent Disco Entertainment
– Silent Multilingual Activation's
– Silent Product Demonstrations
– Silent Corporate Breakout Sessions
Corporate Party Entertainment


Organising your next product launch, corporate event or staff party? With our system you can totally get away with playing music from your phone, tablet, or laptop, or, have one live DJ and two, or three additional playlist channels. Having two or more simultaneous DJ's live battling for your attention is the ultimate buzz. With this setup, each DJ plays during the same time slot and specialises in a different theme, genre or decade of music. Best of all there's no noise so everyone is free to catch-up and talk easily without having to yell over the music.
Trade Shows, Conferences & Expo's

Attending a trade show, conference or expo? Utilise our headphone system so attendee's hear crystal clear sound while watching content from your TV Screens. Have an international audience? With up to four audio channels available you can offer attendees multiple language options. Softly spoken? No problem, with wireless headphones every person can set their own volume so everyone from the front to back row won't miss a word.
Our Wireless Headphone System

Our state-of-the-art broadcast system supports up to four channels of simultaneous audio that can be transmitted up to 300 metres through walls, floors and ceilings. With the flick of a switch each headphone can tune into any of the available audio channels. Coloured LED lights can be set to on, off, or pulse to the music and change colour so participants know which channel other attendees are listening to. All headphones are supplied fully charged so you won't need to recharge the headphone batteries unless your event is longer than 6-8 hours.
Get your message across fast, loud and clear without the need for expensive and heavy PA systems. We can help with everything from how to connect to DJ mixers, the best lighting set-ups and headphone management systems so people don't try to take the headphones home. Silent corporate events are perfect for catering to different age groups and music tastes.

How A Silent Disco Works

A Silent Disco (or headphone party) is when music is transmitted through special light-up wireless headphones rather than played over an amplified loudspeaker system. Coloured LED lights pulse to the music and change colour so you know which channel your friends are listening to.
The setup is as simple as plugging in your own phone, tablet, laptop, iPod, CD Player, or anything else with an audio-out jack. For an additional fee we can also provide music players packed with the greatest anthems – or request your own personalised playlists.
We deliver all the gear you'll need well in advance with Free nationwide delivery! Simply plug and play by connecting our transmitter to any audio source. After the party you pack the kit away, and our courier will collect it again.
It's not only fun to be a part of, but intriguing to watch and listen to everyone as they dance and sing together. It's a unique experience your guests haven't seen a hundred times before, and is interactive, exciting, and totally memorable!
Contact us today to create your own package or to find more about our New Zealand corporate event options.
Parties | Weddings | School Balls | Corporate Events | Festivals | Conferences | Silent Cinema